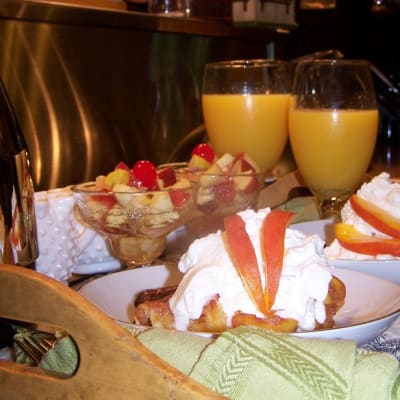 The Most Important Meal of the Day
Whether dining indoors or out, a full breakfast is available every morning at Fallen Tree.
Monday - Friday we serve a sit down breakfast between 730-9 am. Weekends are served between 8-930am. Or if you prefer for an additional fee we can bring breakfast along with coffee/tea directly to your door!
Saturdays and Sundays we serve a sit down three course breakfast at your requested time between 730-930am
Some of our favorite main course menu items include:
Creme Brulee French Toast
Portobello Scrambled Eggs
Peach Strata
Million Dollar Tomato and Onion Pie
Apple Cheddar Quiche
Aspragus, Ham and Fontina Bread Pudding
Some of our favorite Breakfast Dessert recipes include:
Devonshire Strawberry Tarte
Chocolate Orange Truffles
Banana Cream Puffs
Blueberry Brie Tarts
Chocolate Bread
Cinnamon Raisin Bread Pudding.
Coffee and Tea available all day long along with fresh baked goods.
Please be sure to inform us of any special dietary considerations when making your reservation. We are happy to accomodate our gluten free, diabetic, vegetarian and vegan guests. We make every attempt to accomodate your special requests provided we have notice.